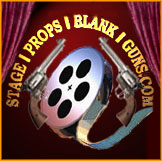 131 Greenbriar Dr.
West Monroe La.
71291
Fax: (318) 397-7828
Toll Free Phone:
866 712-PROP (7767)
8 AM to 5 PM Central
Mon.Thru Fri.
Email Us


Movie Props - Stage Props- Blank Guns - Fake Guns- Movie Weapons - Western Guns - Replica Swords - Civil War Reenactment Weapons

Welcome to Stage-Props-Blank-Guns.com, the industry choice for movie props, movie weapons, stage props, blank guns, and replica fake guns. We offer a large selection of blank guns and non-firing fake guns that are perfect for movie prop weapons, theatrical stage props, television sets, civil war reenactments and plays. Whether it be blank guns to stage a wild west shootout, outfit entire infantry divisions with armoury for a combat fire fight, civil war reenactments or good old cops and robbers action, we have the realistic movie prop weapons you are looking for.




Old west or modern day combat, plain or fancy, we have the movie and stage prop guns that are guaranteed to add realism to your productions!



Our vast selection of movie prop guns and weapons include:






* Blank Guns - Replica Movie and Stage Prop Fake Guns:We offer a super selection of stage prop pistols and revolvers for every era. Manufactured with such precision detail that even the closest zoom in would never reveal these are fake guns, many of our stage prop guns are also blank firing guns. Our large selection of movie prop guns include replica flintlock pistols, military revolvers and a dandy selection of Old West six shooters.






* Movie Prop And Stage Prop Rifles: From the gangster classic Street Sweeper machine guns to "The Gun That Won The West" Winchester 1873 lever action rifles, we have a huge selection of replica rifles and modern day assault rifles that have been duplicated to exact detail. Our movie and stage prop rifles selections include perfect for Civil War Reenactment rifles, flintlock musket rifles, Pirate blunderbuss rifles and a super selection of replica military guns and assault rifles perfect for military training purposes also.






* Other Stage Prop and Movie Prop Weapons: We also offer a huge selection of other popular stage prop weapons including: replica swords, knives, daggers, miniature civil war cannons, medieval battle axes and cross bows. Our vast collection of replica swords include Civil War swords that are great for Civil War reenactments, medieval swords and many other medieval weapons, pirate cutlass and much more!

We also offer other popular stage prop and movie prop products including military insignias, medals, pendants and Civil War uniform accessories.

Dedicated to our valued customers, we guarantee 100% customer satisfaction with all of our quality stage prop and movie prop guns and other replica prop weapons.

We invite you to view our wide assortment of stage props and movie props by selecting the category of your choice in the link menu to the left.