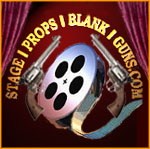 131 Greenbriar Dr.
West Monroe La.
71291
Fax: (318) 397-7828
Toll Free Phone:
866 712-PROP (7767)
8 AM to 5 PM Central
Mon.Thru Fri.
Email Us



Stage-Props-Blank-Guns.com :: Movie Prop Blank Guns :: Front Firing Blank Guns



We have front firing blank guns available for immediate shipment. Front Firing Blank Guns, also called Front Venting Blank Firing Guns Vent or Expel Flame and Smoke From the Front End of the Barrel just like a Real Live Fire Hand Gun. It is a federal law that ALL Blank guns sold in the USA have a red plastic tip on the end of the barre. It is my understanding that the red tip can be removed if the item is to be used in the theatrical, movie, or television industry. All Front Firing Blank guns on our website will have "Front Firing" in the name of the Blank gun. If it does not say Front Firing in the name of it then it is not a front firing. I have all front firing blank guns together on the next several pages in this front firing blank firing gun category including the Walther P99 Front Firing Blank Gun back by popular demand.