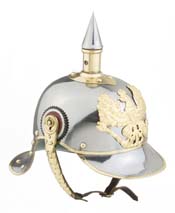 Click Here To See Details and Product Options
Pre WWI German Picklehaube Helmet
SKU: 16-250

1870 pre WWI Imperial German spiked Helmet Replica: Replica Imperial German spiked Cavalry Helmets from Franco-Prussian War to the end of WWI. It features a Steel bowel with lobster tail neck plate. Complete with Prussian spread eagle front insignia, spike and chin scales. Ideal for costume, coll...

---
Our price: $100.00