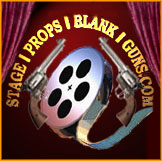 131 Greenbriar Dr.
West Monroe La.
71291
Fax: (318) 397-7828
Toll Free Phone:
866 712-PROP (7767)
8 AM to 6 PM Central
Mon.Thru Fri.
Email Us

Testimonials

Dear Larry,

Thank you so much for your help!! In this day and age where customer service seems to be non existent you sure know how to treat your customers!! Thank you for explaining the problem and giving me choices in a kind and understanding way. It really makes a difference. Youíre awesome!

Sincerely,
Tracy C. Mequon Wisconsin

Order has arrived, and I know it will help make our production of Oklahoma! much more realistic at the important moments. Thanks for the speedy service. The tracking of the order and everything has been excellent. I will definitely use you again when the theatrical need arises.

John L Northport NY
(Feel free to post this response.)

I received the letter openers today. You business was nothing but great. I canít believe it to be honest with you. I ordered late on Tuesday and got them at 5:00 pm on Thursday. Thanks for all your help!

Nick Cerda
Suffolk, VA

I recently purchased a saber, and just want to let you know how happy I am with the quality. I had tried two other swords from some other online companies, and had to return them because they just didn't look real at all. You were my last hope and you came through with exactly what I have been looking for. Thank you very much.

Gary B.
Torrance Ca.

We received out blank guns for the production on the exact day you said we would. The quality is great. I really appreciate your answering my questions about the items and for taking the order for me over the phone. I will shop here again and will recommend you to our associates.

Malcolm S.
Fox Lake Illinois

Larry,

The Swords arrived today and I just want you to know that we are very pleased with the quality. Your service is excellent. That is hard to find these days. We will be back when we have another costume party.

Harmon K,
Waianae Hawaii

We placed our third order with you last week. We have always gotten great items and service. Thank you so much for taking care of the replacement that UPS damaged quickly enough for us to us have the Blank gun in time for the play for Tuesday night. I didnít think it could be done. You guys are great!

Shelia T.
Los Angeles Ca.

Sherry,

Thank you for answering all my questions about what era and what item went together with the replica flintlock rifles. Our production manager is very pleased and that pleases me. I will be back!

Melissa W.
Wilmington NC

We have had a really tough time getting blank guns of the type and quality that we needed. When we called we got a real person on the phone that actually had answers. The Beretta 92 and the Walther P99 blank guns were exactly as described and worked very well. I have given your www.Stage-Props-Blank-Guns.com website and phone number to other people to contact you also. I will call again in about 3 months. Keep up the good work.

Doug P.
Farmington Hills Michigan

To Nikki,

Thank you so much for taking my order on the phone. You said you were new and didnít know much yet but you certainly knew enough. You didnít have to get someone else on the phone with me after all. The items were very nice, were the correct ones for the video and were delivered right on time. I really appreciated you emailing me the UPS tracking number for the shipment. You were great. I will use your website again and will ask for you when I call. You were great!

Thanks again,
Russell S,
NY, NY

I just want to say that I have shopped on the web for many years. I was very impressed with the entire experience at your stage props blank guns website. I wanted a replica gun for my brothers birthday and had no idea they were this nice. He was very pleased with it. I may come back to get one for myself.

Bob L.
Savannah Ga.