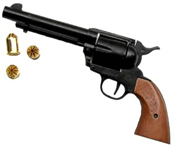 Click Here To See Details and Product Options
1873 Peacemaker 380/9MM Blank Gun Black-Wood
SKU: 1873-161

1873 Peacemaker-Blank Firing Black Wood: This Fine Reproduction Of The Classic Western Six-Shooter Fires 9MM/380 Blanks As Fast As You Can Cock The Hammer. Open The Loading Gate, And Place Six Cartridges In The Chambers As You Rotate The Cylinder. It Feels Like The Real Thing! Features Include A ...

---
Market price: $140.00
Our price: $105.00, save 25%