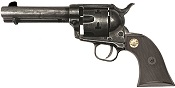 Click Here To See Details and Product Options
1873 Peacemaker 9MM/380 Blank Gun Antiqued Finish
SKU: 1873-203

We are proud to be the first to introduce Blank firing Peacemakers by Kimar in a new beautifully Antiqued Finish by Kimar. This Fine Reproduction Of The Classic Western Six-Shooter Fires 9 MM Blanks As Fast As You Can Cock The Hammer. Pull The Hammer Back To Half Cock; Open The Loading Gate, And ...

---
Market price: $264.00
Our price: $198.00, save 25%