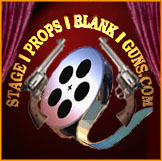 131 Greenbriar Dr.
West Monroe La.
71291
Fax: (318) 397-7828
Toll Free Phone:
866 712-PROP (7767)
8 AM to 5 PM Central
Mon.Thru Fri.
Email Us



Stage-Props-Blank-Guns.com :: Help zone


Help zone
About our site
Welcome to our site. We have assembled a complete package of Blank Guns and other Replica Weapons for your convenience to choose from.

Through our vast experience of selling on the internet with Replica Weapons and Collectibles, we know Our Customer's Needs and Wants! We have a large and extensive selection of Blank Guns And Replica Weapons from all eras.

Orders completed before 4:00 P.M. central time, are usually shipped that same day, and can be delivered to you the next business day. We are large enough to accommodate but small enough to give you individual and personal service. We, the owner / operator, are available by phone or email most anytime. During non business hours, we forward our office phones to ensure the calls are always answered by a company representative - never an answering service. We love our work and are here to serve you.

We welcome blank guns, replica guns, replica swords, and other collectors, military training agencies, reenactors and hobbyist as well as our movie prop clients. Thank You for stopping by. We hope that you enjoy your visit and will give us a shot!!