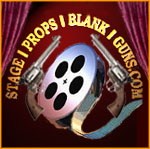 131 Greenbriar Dr.
West Monroe La.
71291
Fax: (318) 397-7828
Toll Free Phone:
866 712-PROP (7767)
8 AM to 5 PM Central
Mon.Thru Fri.
Email Us



Stage-Props-Blank-Guns.com :: Old West Movie Props :: Western Badges



We have any type or style western badge that you may be looking for. These are all replica or reproduction badges that have all the details and weight an of original authentic western badges.
10% Discount at check out except blank firing guns are marked down 25%.