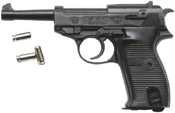 Click Here To See Details and Product Options
P38 Blank Firing Gun
SKU: P38-600

P 38 Blank Firing Gun: Faithful in design to the legendary P38 Auto Pistol adopted by the German Wehrmacht during World War II. The P-38 replaced the P-08 Luger as the official German sidearm. It continued in use by West German forces long after the war. It is great for reenactments, Prop gun or ...

---
Our price: $105.00